Exceptional In-Home Cat Sitting: Where Your Feline Friends Are Royalty
At Housebound Hounds, we are experts in offering an unparalleled in-home cat sitting service that is customized to meet the distinct requirements of your cherished feline companions.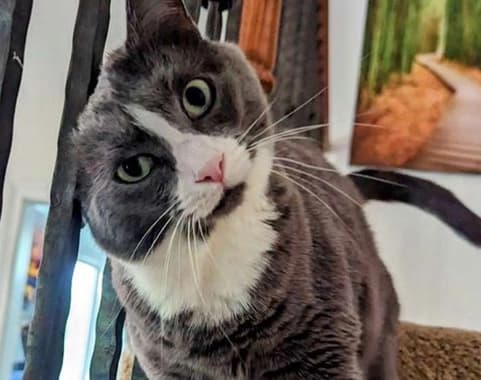 What Our In-Home Cat Sitting Package Includes:
Each visit is 20 minutes long and time-stamped for accountability.
Litter box cleaning and maintenance included in every visit.
Fresh water and cat food provided according to client-specific instructions.
Playtime and cuddling sessions to keep your cat engaged and happy.
Daily activity logs detailing eating habits, playtime, and any unusual behavior.
Customized care plan to align with your cat's specific needs and routine.
Ability to care for up to four cats from the same household without additional charges. Added costs for additional cats or pets.
Special attention for cats with medical needs.
Affordable Cat Sitting Rates
Starting at just
$24per visit
Start Services
we offer value-packed services that don't compromise on quality.
Choose Housebound Hounds: Where Your Cat Feels At Home
No More Worries: Reliable Pet Care, Guaranteed
Life's uncertainties shouldn't compromise your pet's well-being. Our foolproof system ensures that a qualified pet sitter is always available to care for your pets. If your regular sitter can't make it, our standby team is prepared to step in, ensuring your pets continue to receive the love and attention they deserve.
Safety is Our Priority: Meet Our Professional Pet Care Specialists
Our team of Pet Care Specialists undergo rigorous background checks and extensive training to ensure the highest safety standards. These include:
Maintaining a secure environment within your home.
Vigilantly avoiding potential hazards such as open doors or harmful substances.
Ensuring your home is secure (locked and alarm armed) when we leave, for your peace of mind.
All-Inclusive Cat Sitting Packages
Our comprehensive cat sitting package is designed to maintain your cat's regular routine, thereby promoting their emotional and physical well-being. The package includes playtime, feeding, and medication administration, as needed. To keep you informed, we offer detailed activity reports, complete with brief notes, report cards, and photo updates.
Value-Added Services at Affordable Rates
Starting at just $24 per visit, our in-home cat sitting services offer exceptional value for your investment. We provide flexible scheduling options to accommodate Weekend, Weekday, and Holiday visits. Each visit lasts 20 minutes, giving your cat ample time for exercise, play, and companionship.
Comprehensive Concierge Services for Your Home
While we specialize in taking care of your four-legged family members, we also offer a range of concierge services to ensure your home is well-maintained in your absence. Our team is committed to providing a holistic approach to pet and home care.
Why Choose Housebound Hounds instead of big online platforms?
Competitive Pricing: We offer competitive pricing with no hidden fees. Larger platforms often have additional charges that can add up quickly, but with Housebound Hounds, what you see is what you get.
Personalized Care: At Housebound Hounds, we believe that every pet is unique and deserves personalized attention. Unlike larger platforms, we take the time to get to know your pet's specific needs and preferences.
Local Expertise: Our team consists of local pet care professionals who are familiar with the community. This local expertise ensures that your pet will be walked in safe and comfortable environments, something that larger, more impersonal services can't guarantee.
Transparency and Trust: We prioritize transparency and trust in all our interactions. Our pet caregivers undergo rigorous background checks and training, ensuring that your pet is in safe hands. With big online platforms, the sheer volume of caregivers can make it difficult to ensure consistent quality.
Frequently asked questions about Housebound Hounds In-Home Cat Sitting