Revolutionize Your Pet Care Experience with Time To Pet
At Housebound Hounds, we prioritize your pet's well-being and happiness. We understand that entrusting someone with your pet is a big decision.
That's why we've integrated Time To Pet Mobile App into our services to revolutionize your pet care experience. From seamless communication to secure billing, Time To Pet offers a comprehensive solution that enhances our client experience in multiple ways.

Seamless Communication
As a pet owner, effective communication with your pet care provider is crucial. Time To Pet Mobile App simplifies this process by offering a centralized platform for all your communication needs. Whether it's messaging your pet sitter, receiving real-time updates on your pet's status, or sharing important information like dietary restrictions or medical needs, this app ensures that nothing slips through the cracks.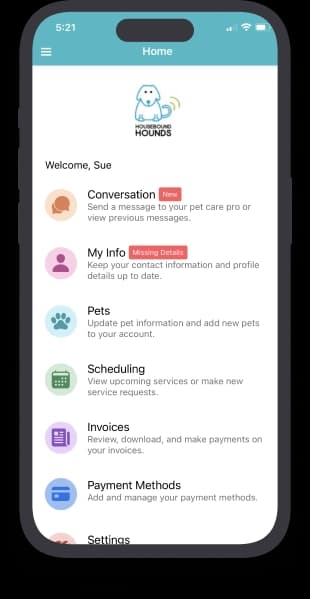 GPS Tracking and Visit Report
Worried about your pet's safety while you're away? Rest easy. Time To Pet Mobile App features GPS tracking, allowing you to monitor your pet care provider's location during visits. This ensures accountability and peace of mind. Additionally, you'll receive real-time updates and detailed visit reports, complete with photos and notes, to keep you in the loop.

Key Features:
Live GPS Tracking: Know where your pet is at all times.
Visit Summaries: Receive detailed reports after each visit.
Photo Updates: Visual confirmation that your pet is happy and safe.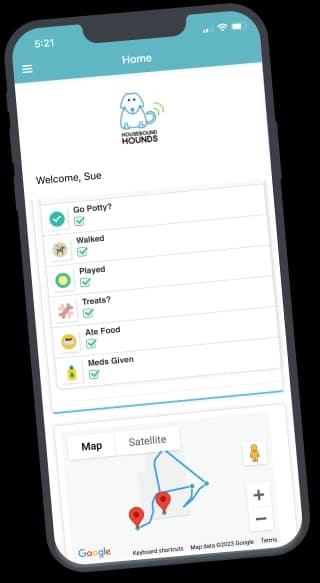 Schedule Management
Time To Pet doesn't just stop at communication and billing; it also offers robust schedule management features. Book, modify, or cancel appointments with ease. The app's calendar view allows you to see your upcoming visits, so you can plan your day accordingly.

Key Features:
Easy Booking: Schedule visits with just a few taps.
Calendar View: See all your appointments in one place.
Modification and Cancellation: Make changes to your schedule as needed.
Secure Billing and Invoicing
Gone are the days of fumbling with cash or checks. Time To Pet Mobile App offers a secure and hassle-free way to handle payments. The app supports various payment methods, including credit cards and digital wallets, ensuring that transactions are smooth and effortless. You can also view your payment history, invoices, and any outstanding balances all in one place.

Key Features:
Multiple Payment Options: Choose from a variety of payment methods.
Invoice History: Keep track of all your transactions.
Outstanding Balances: View and settle any pending payments.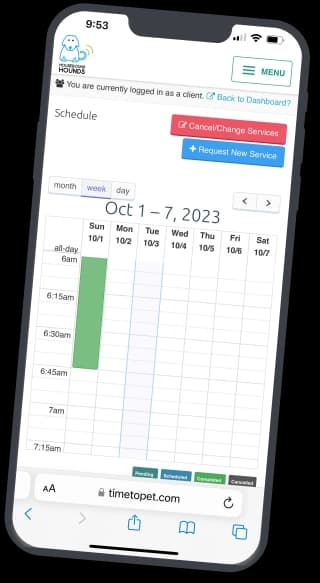 Why Choose Housebound Hounds with Time To Pet?
By integrating Time To Pet into our services, we aim to provide a seamless, transparent, and efficient experience for our clients.
Here's why Housebound Hounds + Time To Pet is the ultimate pet care solution:
Transparency: Know exactly what's happening during each visit.
Convenience: Manage all aspects of pet care from one platform.
Security: Rest assured with secure payments and GPS tracking.
Housebound Hounds is committed to delivering the best pet care experience possible. With the integration of Time To Pet Mobile App, we're taking our services to the next level. Experience the revolution in pet care by signing up with Housebound Hounds today!
Pet-Loving Service
When you choose Housebound Hounds, you're choosing an award-winning team that's recognized both locally in Omaha and on a national scale. Our website, www.houseboundhounds.com, serves as a hub for all your pet care needs.
Bookmark our page and keep coming back for updates, tips, and the assurance that your furry friend is in the best hands in Omaha!
How to Start Services
Getting started is as easy as 3 steps
1. Fill out the form
Tell us about your unique needs and we can tell you more about our services.
2. Download the App
This app keeps you, your pet sitter, and your pet seamlessly connected, ensuring no details are missed.
3. Meet and greet
We meet at your home so we can become familiar with the surroundings and your pet can be as comfortable as possible.