Housebound Hounds: Unleashing a New World of Pet Care with Our Revamped Website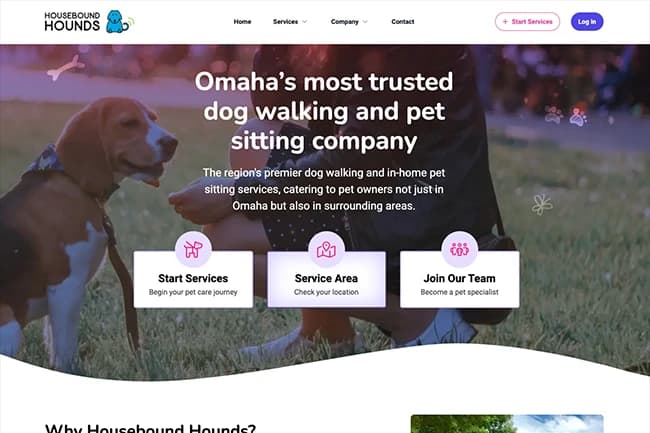 Introduction
Attention all pet parents! Housebound Hounds is thrilled to announce the launch of our newly redesigned website, houseboundhounds.com. Designed with you and your furry friends in mind, our website offers a seamless, user-friendly experience that makes pet care easier than ever. Read on to discover what's new and why you should make Housebound Hounds your go-to resource for all things pet care.
Why Choose Housebound Hounds?
Housebound Hounds has been a trusted name in pet care for years, offering a range of services from dog walking to pet sitting. Our commitment to quality and customer satisfaction has made us a leader in the industry. With our new website, we aim to take our services to the next level, offering a one-stop-shop for all your pet care needs.
User-Friendly Interface
Our website features a clean, intuitive design that allows you to navigate through our services effortlessly. Whether you're booking a dog walker or looking for grooming tips, you'll find what you need in just a few clicks.
Comprehensive Services
From pet sitting to dog training, our website offers a comprehensive list of services to meet the diverse needs of pet owners. You can even book appointments online, making it easier to fit pet care into your busy schedule.
AI-Powered FAQ Assistant for Tailored Solutions
One of the standout features of our new website is the AI-Powered FAQ Assistant. We understand that every pet is unique, and so are your questions and concerns. Our advanced AI assistant is designed to provide personalized, accurate answers to all your pet care queries. Whether you're wondering about the right diet for your dog or seeking advice on pet behavior, our AI assistant is here to guide you 24/7. This cutting-edge technology ensures that you get the information you need, when you need it, making pet care more accessible and convenient than ever before.
Expert Advice
Our blog section is filled with articles, tips, and advice from pet care experts. Whether you're a first-time pet parent or a seasoned pro, you'll find valuable insights to help you provide the best care for your furry friend.
Conclusion
Housebound Hounds is more than just a pet care service provider; we're a community of pet lovers committed to making pet parenting as joyful and stress-free as possible. Our new website is a testament to this commitment, offering a range of features designed to make your life easier. So why wait? Visit houseboundhounds.com today and discover a new world of pet care.